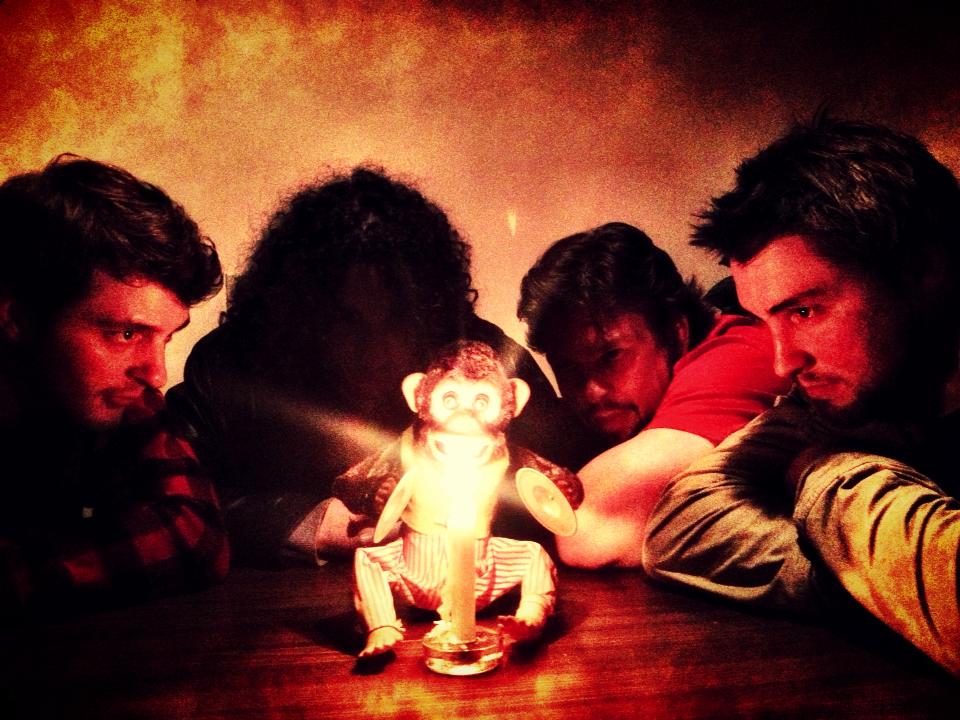 When I first moved to New Hampshire from Boston I was starved to find local music that fit my pallet and there was none to be found until I went to visit an old friend's band from New York City that kicked off their tour at Milly's Tavern in Manchester, NH.   As I approached the venue I heard a guitar tone coming out of the front door that sounded like a cross between Jimmy Page, Eric Clapton & Marc Ford.  I walked into the venue and there was this young curly haired guitarist wailing away like he was playing in front of 10,000 people putting the whole audience in awe including myself.  The early version of Fire in the Field included a singer Jaime Bagshaw … who was heavily influenced by Robert Plant and booze.   Their live performances were erratic and Bagshaw's on and offstage antics caused much strain within the band forcing the firing of their singer and childhood friend after a critically acclaimed sold out record release show at Bill's Bar & Lounge.
After the firing the remaining bandmembers guitarist Michael A Moore, drummer John Santerelli and bassist Jeff Badalato continued to perform as an instrumental trio but the passion and drive just wasn't there.   Mr. Moore decided to expand his repertoire and he joined two bands the reggae influenced Michael Bernier & the Uprising and the funk & R&B powerhouse Miss Fairchild.    As an integral member of the Uprising Michael shined onstage wowing audiences with his guitar heroics and learning from one of the most prolific front men in the local music scene, a stalwart that puts all of his passion and energy into each performance.   With Miss Fairchild Michael Moore brought his James Brown and Prince chops to another level showcasing just how quickly he could adapt in any situation.  With the direction of Travis Richard the lead singer and bandleader of Miss Fairchild Mike was given the room to take the spotlight and sing lead, play harmonica and perform ripping leads again learning from one of the best front men Boston has ever seen.
During this transitional time period Mike continued to write and record material as well as take vocal lessons from the very well known and talented vocal coach Linda Balliro.   Her influence on his vocal technique was undeniable and the coaching prepared Mike for the return of Fire in the Field with Mr. Moore as front man and guitarist extraordinaire.
---
Hear Now Live:  Fire in the Field is back but in essence they never went away.  How did you prepare for a full on come back for the band and how did you keep the audience prepared and ready for when the band made their return to the stage?
Mike Moore: The key is always your content, your songs.  I never stop writing.  The more and more the material built up I was burning to see it through all the way.  I was also faced with the challenge of becoming the front man/singer of the band, something that was always a desire but I never thought it a true possibility.  There was a comfort zone in being a guitarist focused on his craft; but new challenges are the things that drive you and I had to take myself up on it, cause why not?  Between playing open mics and jamming with everyone I could I knew it was only a matter of putting in the leg work.  Taking voice lessons was the greatest thing I've ever done, helped me as a guitarist as well, made me a better song writer and all around musician.  Linda Balliro is the wonder woman I have to thank for that.  The last thing I wanted for the return of Fire in the Field was to be the guitarist who sang versus both a singer and a stringer.  A lot of the material I write without vocals first and I force myself to learn riffs and progressions while singing that aren't intuitive to both vocals and guitar coming from one person.  It adds a fresh layer, and it's the hardest thing to do.  Sometimes I regret it actually because it is so difficult, haha!  It's always worth it though.  
The audience is a different story.  I think their attention stemmed from me staying present in the amazing network of Boston and southern New Hampshire musicians.  For a few years I spread myself around and played with everyone I could.  Country Americana rock of Kings of Crisis (a lot of my material was shed in their practice space!), the roots rock reggae of Michael Bernier & The Uprising, the heavy classic style riff rock of Red Sky Mary, and the R&B/Funk Soul of Miss Fairchild. 
Yeah, the attention stemmed from the fact people knew I was around doing my thing and staying hungry; and those who knew Fire in the Field before, knew my style and where I truly was meant to be, so when we came back the eyes lit up.
HNL:  What have you done to keep your chops up and how difficult was it to transition and support two of Boston's premiere live acts Michael Bernier & the Uprising and Miss Fairchild?  How were they different from each other?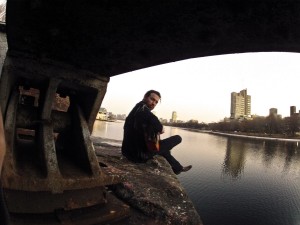 MM:Keeping your chops up is always just a matter of logging the hours, labor of love.  Never in a boring academic way, I can't do that all the time, only in minimal chunks will I work with a book.  I like to discover other artists and get inspired, learn songs by ear that I love, and jamming with friends every night just for the sake of playing, is great for keeping your chops up.  Consistency is best but I play more when I'm inspired to play, not because I'm trying to figure out a lick note for note.  I think I've learned maybe two solos in my life note for note.  I don't see the point.  Another great way is taking guitar lessons here and there, you can always learn.  One-on-one lessons with guitarists that you feel are masters of their craft are best.  I even revisited with my old guitar teacher Ned Chase of Truffle recently.  I also took some lessons with Bob Halperin, The premiere blues-man around; in my opinion that dude is not just close to the source but he's steeped in it and has been for years.  Jumping in with Michael Bernier in the Uprising was my first "band on the path" experience outside of the first version of Fire in the Field.  It made me rethink my approach to guitar, before I was much more in your face all the time.  With MB I had more opportunity to discover subtler ideas in my style. Miss Fairchild was frightening to join.  There's nothing truly intuitive about their music, by design, they're a show band.  Schuyler Wheldon (the original guitarist) is currently getting his masters in Musicology in L.A. so you can imagine the complexity of arrangements with those guys.  Amazingly tight band.  I took my girlfriend at the time to see them and happened to talk to Schuyler and he offered me the audition.  That was cool.  I worked with Schuyler a lot to pick his brain about his approach to the band and just music in general.  Those times were invaluable to really getting into what funk was all about.  I really had to focus on rhythm and sparsity for all the MF material and it has improved my timing incredibly.
HNL:  Where was the new record "Gypsy Tea Room" recorded and mixed?  Who did you work with to get it finished?
MM: In Rollinsford, New Hampshire there is a mill building called The Salmon Falls Mills.  Bunch of studios are there and lots of local musicians have been up there to work with the likes of Chris Chase or Jon Nolan.  My keyboard player Andrew and his band have a studio space there, "B12."  It's a one room rehearsal spot and it's where we tracked the entire first FITF record. This time though we wanted to do it all on our own, without a producer, or outside engineer.  John Santarelli the drummer for FITF engineered the entire album.  We would rehearse at my basement jam spot at my house in Saugus (living with the bassist Jeff at the time), and then the weekend after rehearsals go up to the studio, set up mics, track, and leave.  Rinse and repeat until all tracks were done.  It was no small task as we would have to set up and break down each time we went to track since we were getting the time for no cost. The key to this record was rehearsing and going into the one room and cutting guitar, bass, and drums in one fell swoop.  It gave the record the tight but loose, produced but live feel that is so important to rock music. We wanted fresh ears for the mixes and my cousin Wes had just graduated from UMASS Lowell in sound engineering and moved to L.A. for a job.  This is a guy with an amazing ear for music, better than anyone in my band most likely, young, not jaded, no preconceived notion of making something sound like another band or another song.  He's also seen FITF live many times, crucial to understanding what a mix should sound like.  Also, the vocal tracks weren't coming out the way I wanted at B12 and so Wes and I decided I'd go to L.A. and cut vocals with him and then he'd mix it from there.  It worked.  The magic of L.A. really got into my bones and I spent a week every day slamming vocal tracks until it was complete.  That extra time where the songs marinated inside me before going west were crucial for making the tracks become fully realized. To master the tracks we returned to Jay Frigoletto.  This guy is a Jedi in the sound world.  He's worked all over the country on all different types of music and is a ridiculously amazing musician himself.  He's also worked with the likes of Fu Manchu and Clutch, a no-brainer.
HNL:  You worked with the core original members Jeff Badalato on Bass and John Santerelli on drums with the addition of Andrew Blowen on Keys.  Can you tell me what it means to work with those musicians and what other instruments did you play on the record?
MM:  Andrew was the first person who ever heard me sing one of my songs.  I played him this awful sounding recording of the first version of "Ferryboat River Ride."  I was nervous to say "Hey, I'm gonna be the singer!" I knew if I got his stamp of approval then I could figure it out.  Working with Andrew has been the greatest blessing of my musical life.  He's a natural, a feel player, reads music, has a great ear, always knows what to play, and has the stage presence of any of the greats people harp on about. I've known John Santarelli since Little League and Jeff Badolato since freshman year in high school.  All in all I've been playing music with those dudes for a decade.  John, Jeff, and I bring a rawness built on friendship and instinct you can only get with time. For other instruments I played keyboard on "Ferryboat River Ride" and "Gypsy Tea Room."  I wrote those songs on keys and it just made sense to do it that way.  I also played harmonica.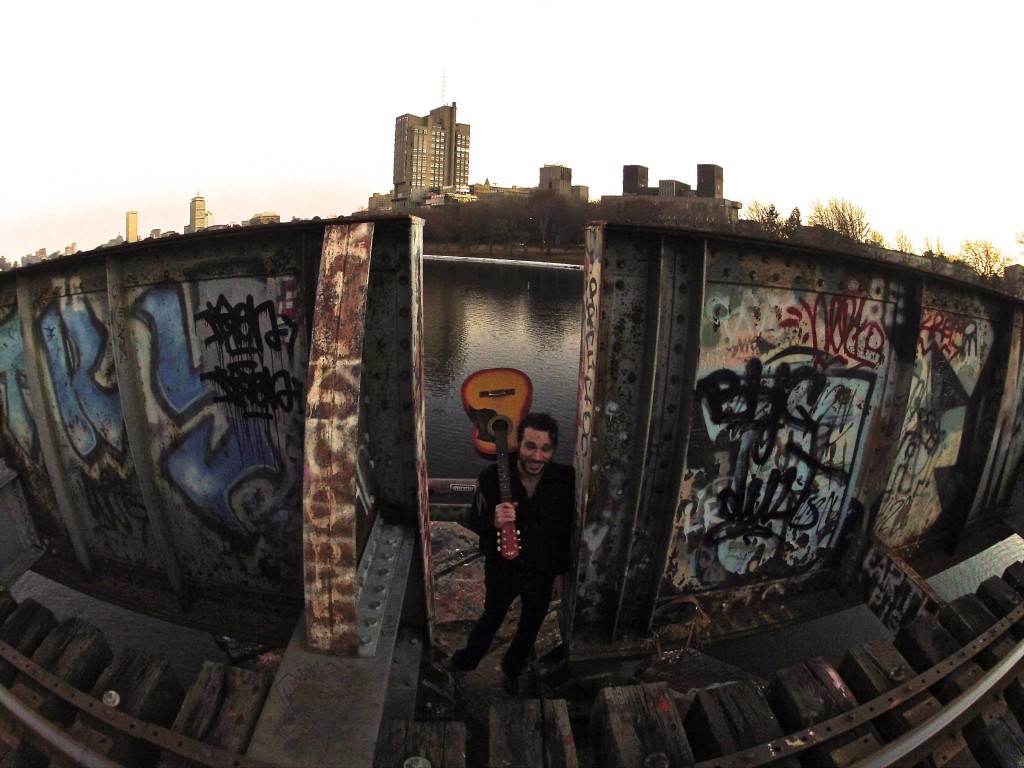 HNL:  The record was written with a concept in mind, care to elaborate?
MM:  The concept really came afterward when I realized the songs and stories I had before me.  A lot of the lyrics are my spin on a traditional blues vernacular and blues story: love lost, love found, despair, self-loathing, self-discovery, perseverance, and then the transformation into something better. The record relates to the day to day wrestle with the unknown and constant change.  I drew a lot from my own struggles over that three year period post-FITF version one and put the pain and the triumph into these tales.  I realized after I looked at the collection there was a seedling linking it all together. I guess to sum it up the idea is all the characters and stories exist in a spiral outward from this, "Gypsy Tea Room."  For instance, the woman in "Ferryboat River Ride," could have once had a drink in this tea room, the haunted man in "Shiver," could be a regular, ponying up to the bar telling his tale of mystery.  The lovers in "Skyline Train," maybe passed through this tea room in their happier days when traveling together, "Suzie" herself might work there for all we know.  What the tea room means to all these characters is subjective to their experience.  Some see light, others darkness, and sometimes in-between.  I've said too much!
HNL:  The lead single from the record "Piece of My Head" has a chord progression on the guitar I've never heard before but at the same time it's very accessible.  Can you explain how you wrote the music for that track?  What guitar and affects did you use?   What other guitars did you use on the record and did you approach the playing for the record in a specific style?
MM:It's a pretty basic blues progression with a couple curve balls thrown in with a big ole riff and a nice bridge that modulates and brings the groove back a bit.  The main guitar part though is something I'm very proud of.  That stemmed from developing my own finger picking style.  It's pretty simple in theory, just a triplet after triplet, but it has a driving percussive thing that would have changed the whole vibe of the song and taken out the originality if it wasn't there.  I wouldn't have written that had I not listened to Lightnin' Hopkins, Skip James, Robert Johnson, etc. I didn't actually use any effects for this track aside from some overdrive for the guitar solo.  Other than that it's just my Gibson into my Fender Bassman dialed to the sweet spot where the tubes break up nice.  I did double all the guitar tracks though to thicken up the stew.
HNL:  As a big fan of the Black Crowes I see some of their influence in "Blue Moon Shine Thrills" and "Skyline Train"… Can you talk about those songs and other influences on the record?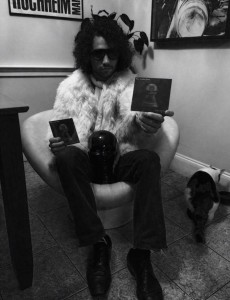 MM:"Blue Moonshine Thrills" is in an open tuning that Rich Robinson and Keith Richards and a billion blues players use.  I actually was learning a Robert Johnson song in open G#, Rich uses open G, but it's the same thing just a half step difference.  After I learned the RJ tune and was getting bored of reading off a page (something you really don't need to do with the blues) I just started messing around and came out with the main progression of "Blue Moonshine Thrills."  It definitely as that heavy swampy openness that a lot of Rich's progressions do in The Black Crowes.  TBC are one of my favorites; a huge influence.  Just TBC's resilience over the years to never settle and always do the records they want to do is one of the most inspiring things in my musical life. I have no idea where "Skyline Train" came from.  That guitar progression is another I'm very proud of.  Another finger picking lick with a dropped beat in the middle, has a cool feel to it.  I found that and it just snowballed from there.  That one is a blur.   I can definitely say the solo section on that tune is inspired by the Neil Young style of playing… that no holds barred epileptic thing.  I love that stuff.  Neil's guitar tones on "Live Rust" are some of my favorites ever in life… definitely the record that made me want to play guitar. One of my other major influences is Tom Morello.  All of my heavy mid tempo riffs would never exist without those teenage years getting my anger off on Rage Against The Machine.  Vocally I'd say the work of Chris Robinson, Prince, Jimi Hendrix, Neil Young, Michael Jackson, Ray Charles, Stevie Wonder… are all kind of in me somewhere.  I'm not a great singer yet but I'm doing well with only doing live for a year now.  But most rock bands I hear I want there to be more soul in the vocals instead of always having something to prove.  There are too many people doing their best Robert Plant impressions.  If I could be any singer it would be Michael Jackson, or rather his set of capabilities, because he was infinite in what he could do.  I also have a higher voice than the record lets on.  I wrote most of the melodies and vocals before I really discovered what my voice was, an error that will be erased on the next material we put out cause now I know, but it's all part of the process.  I'm a tenor through and through and my voice is clean like an MJ or Stevie Wonder; so those are two of the best voices in music for me to aspire to.  I always wanted to have a deep burly voice like Muddy Waters, Howlin' Wolf, or the smoked out whiskey thing like Chris Robinson or Rod Stewart, but it ain't in my biology!
HNL: As the lead singer of the band … how do you approach the live shows differently from before when you were the guitarist?
MM:I don't really have a specific approach.  I guess as a guitarist I always wanted to engage and get people off, but it was more through physical motion and what I was playing.  Now, being the front man, with the voice, it's like I'm naked up there and it was frightening at first..still is!  But once we start I just let that switch flip and I feel open to everything going on.  You just have to let go not matter what you're doing.  If you can't let go it's very apparent to the savvy ones, and the non-savvy still aren't feeling it as much.  That's my approach I guess, I let go.  It's a trip to feel that energy head on from people, I love it, and I give it back, and hard.
HNL:  How important has been for inspiration to travel to Nashville and LA several times over the last few years and to work in those music induced atmospheres?
MM:Getting out to those hot spots was paramount and made me realize the global connection of what it is to be a musician: the struggles, the successes, and all the hard work, the consistent hard work.  L.A. is a monster that will swallow you whole or will make your world shine.  Nashville is mind blowing in the level of talent, and incredibly small.  I had no idea it was such a tiny city until I showed up and drove through the whole thing in minutes. Seeing the Wooten Brothers w/ Future Man, and a bunch of other studio musicians at 3rd &Lindsley, big time heavy hitters on a Wednesday night for $5 was a trip.
HNL:  Can you talk about the struggle it's taken from getting from the debut to "Gypsy Tea Room'?  What did you have to go through to get from where you were then to where you are now?
MM:When FITF broke up the first time it couldn't have been worse timing.  I was getting out of college ready to go full steam ahead with the music thing and the band was internally being destroyed because we were too immature to settle up our senseless differences.  I was madly in love with a woman that began to hint I should give up pursuing music and keep it as a hobby.  "Hobby" is the most offensive thing you can say to a struggling musician, haha.  The underlying problem is I've always suffered from brutal self-scrutiny and an anger problem built on that scrutiny.  Through all of those issues I mentioned I managed to affect my physical state.  I ended up having a nearly pinched nerve in my left elbow, the ulnar nerve, compounding my already weak left wrist joint from a childhood injury.  That left wrist joint has always been super loose, and with the physical trauma from my anger, and then the nerve in my elbow getting compressed I felt I was F*&K@D.  Guitar wasn't fun anymore, it was painful.  I was really just depressed and looking back now I'm glad I made it out alive, physically and spiritually.  I ended up having ulnar nerve surgery and learned to meditate to alleviate my stress and depression.  Overtime everything started lifting, I could feel myself coming out of it and just kept doing what I was doing, and still am.  I have a major stretch and warm up regimen before I play, still meditate, and it makes all the difference.  Needless to say a lot of "Gypsy Tea Room," comes from those dark times and what it took to get out.
HNL:   Where do you see the current state of the music industry headed? And where does Fire in the Field fit in that model?
MM:As Prince said recently, "We live in a singles driven market… but I'm old school and albums are my thing."  I couldn't agree more, I've always been a person who goes to a record store to get the album I've been hearing about or wanting to check out.  Then I listen to the whole thing in one sitting or two.  "Gypsy Tea Room," certainly rewards those who take the journey but I'm not sure if what FITF does is something that crosses over into the main stream mind set.  If it does, awesome!  I'd love to be playing and touring at a high level turning on as many people as possible.  I can see myself fitting in there, haha, all musicians do!  I think regardless though off all the pit falls of the music industry where people get swallowed up every day, every week has it's flavor, etc. there are still plenty of serious music listeners out there… I think.  Do people want to discover new music?  Or are they more comfortable in what they know already?  It goes both ways.  The bottom line is it still remains a business like it's always been, and if you're songs are good enough and you work hard enough, you increase potential for "catching on."  The grump inside of me though sees the difference between a hit song and not a hit song as money and investment.  If you have the cash you can buy your way in.  I'm definitely fine with being wrong about that. Overall I think the best thing to do with FITF is keep it original and growing musically.  The more original you are, the more you stick out from the rest just trying to grab on.
---
There you have it from the mind of a musical genius.   Every once in a while there is a musician that comes around that stands high above everyone else in playing, writing and character and Mike Moore has all of that.  If you want to really see a special talent check out their site fireinthefieldmusic.com or their facebook https://www.facebook.com/fireinthefield.  
Un-carefully, unedited by Mark Kaye